10 Ton(20000lbs) 28- 47.5 Heavy Duty Steel Pin-Type Trucks Trailers Jack Stand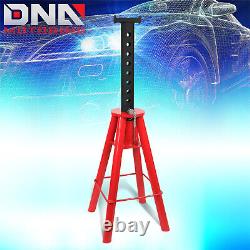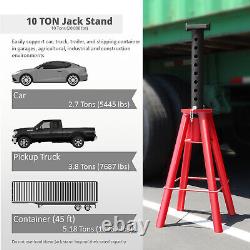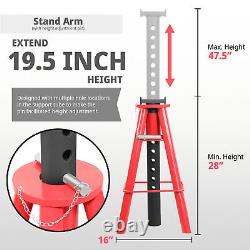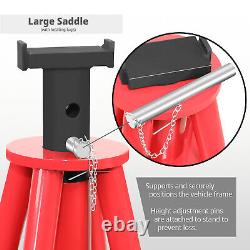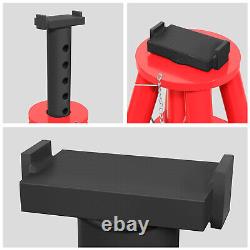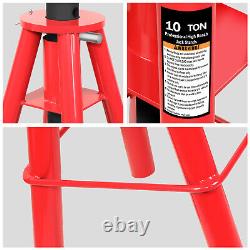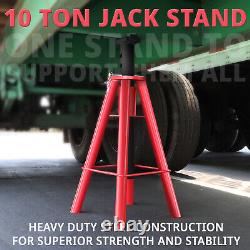 10 Ton(20000lbs) 28"- 47.5" Heavy Duty Steel Pin-Type Trucks Trailers Jack Stand. The heavy-duty jack stands are used to support your vehicle after lifting with a jack. Constructed of high-grade steel for durability, it handles a wide range of vehicles and equipment, including agricultural and industrial applications.
1X 10 Ton Jack Stand. Used to Support your Vehicle after Lifting with a Jack.
Heavy Duty Steel, Providing Long Term Durability with an Industrial Luster. Wide Foot Base Providing Added Strength and Stability. Adjustable Height: 28" - 47.5". 10 Ton (20,000 lbs) Load Capacity.
Large Saddle with Locating Lugs Supports and Securely Positions the Vehicles Frame. Multiple Hole Locations in the Support Tube Make Height Adjustments Quick, Easy and Secure. Locking Pin is Attached to the Stand to Prevent Loss. Used in Pairs for Supporting Cars Trucks, Trailers and Equipment in Garages, Agricultural, Industrial and Construction Environments.
WE HIGHLY RECOMMEND PROFESSIONAL INSTALLATION! DNA Motoring came about more than a decade ago with only one thing in mind and that was providing performance parts solutions to the car enthusiast. Being car guys ourselves, we understand first hand on what the community demands and what it thrives on. Throughout the years the automotive scene has been evolving and so have us.
We have been swift in adapting to the industry changes and catering our new products to fit the current needs. DNA Motoring has been the umbrella corporation for other brands and web presences so that we can more specifically market to the proper customer demographics and hopefully reach out to as many individuals and groups as possible. We begin with our factories overseas, where we do heavy research and development in testing car applications and fitments for our products.
In addition, we also do rigorous testing on the strength, durability, as well as longevity of the material in order to make sure when the product arrives at the consumers end that it's ready to go without worries. During stressful conditions such as climate and road conditions, there is a great strain that is put on the vehicle and we keep this in mind while we design and test our products to ensure maximum performance as well as safety. The last thing we want to hear is having our products fail at its most crucial needed moment so we strive to do all that we can to minimize such events from even occurring. Trust in our commitment in custom manufacturing each and every one of our parts as we continue in providing quality made products backed by top notch service. Where DNA Motoring shine is we operate and manage several factories in which we're able to govern and oversee ourselves in order to keep costs down and ultimately reducing end consumer prices dramatically.
We like to stay competitive in our pricing and constantly adjust to the ever-shifting market values. DNA Motoring is here to stay and will continue to serve the scene for as long as time allows in order to bettering ourselves in our knowledge and respect for the automotive community. Some of the packages cannot be delivered to a PO Box. Package will be held until a valid physical address is provided. Sign up to our Newsletter. Get all the latest News, Updates and Special Offers about our store.