4/10 Ton Porta Power Hydraulic Jack Body Frame Repairment Pump Tool Heavy Duty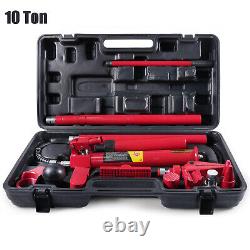 He choice of hexagonal steel, corrosion-resistant; rubber plus hand guard handle does not hurt the hand, more durable. Can manually adjust the height of 13cm, the highest 45.2cm, the lowest 32.2cm.
Easy to store and carry. The entire tool kit is compact and complete, the tool box is easy to store and carry, to achieve the best work performance. Suitable for auto repair stores, auto repair centers, 4S stores, auto repair stores, more widely used.