Heavy Duty 5 Ton Hydraulic Heat Press Machine Dual Heating Plated 2.44.7 110V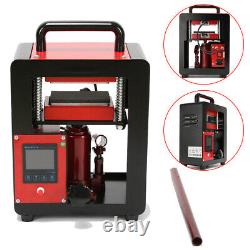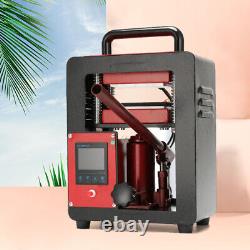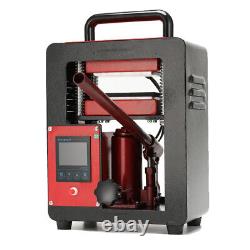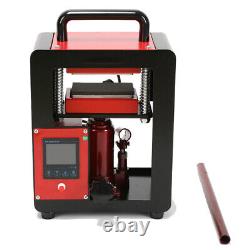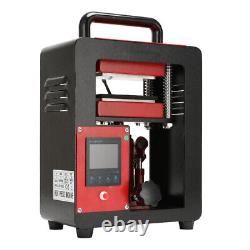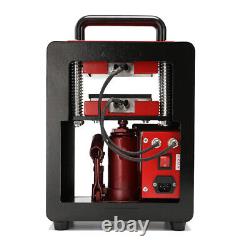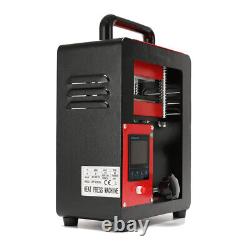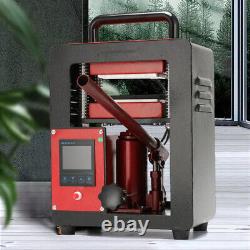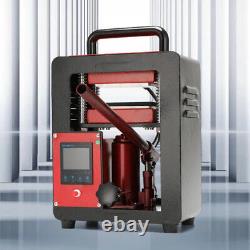 Package Included: 1 Heat Press Machine 1Manual. Heavy Duty 5 Ton Hydraulic Heat Press Machine Dual Heating Plated 2.4"4.7" 110V. 5 Ton Manual Hydraulic Heat Press Machine 110V Dual Heat Plates 2.4X4.7'. The heat press technology changes our life rhythm and brings us a lot of business opportunities.
Our heat press machine uses iron and aluminum materials, making it long-lasting and strong. It features high safety, an intelligent LCD screen, a timing button, a 5T jack, and so on. It heats up quickly and evenly and can be used for extracting raw materials at home or shop. Both beginners and professional enthusiasts can operate it easily.
The machine adopts iron housing with a plastic spraying treatment and the heating plates use aluminum with a coating finish, which has long service life, anti-oxidation feature, and good insulation performance. The high-temperature-resistant line, short-circuit, overvoltage, and over-temperature protection make this machine safe to use. Moreover, the heat-sink design provides good heat dissipation performance to prevent the machine from overheating and causing burns. The intelligent LCD screen with clear marks, waterproof keys, and a digital display shows the time and temperature, which is convenient for your operation and makes the heat press more efficient and precise±50? Electronic timing function with a timing button allows for convenient operation and automatically emits a warning sound when the program is completed.
The automatic thermostat allows for automatic temperature adjustment. And the large space between the two heating plates makes it convenient to place items.
5T manual hydraulic jack offers high pressure on the plate to get better heat press efficiency and helps achieve high-pressure pumping. The 1.57" thick aluminum upper and lower heating plates(2.4"W4.7 L) with 900W power have stable performance and the temperature can rise to 392? In about 10 minutes, achieving even and fast heating. The rectangular frame and combination of black&red colors give this machine a simple and modern appearance, adding a cool element to your shop. Its digital controller, switch button with indicator, aviation AC socket with fuse, convenient knob, and English manual allow for easy operation, which is great for both beginners and professional heat printers.
The compact size (125.419.5 inches) allows this heat press machine to be a great space saver in any shop or your home. Because of the smooth surface with plastic spraying treatment, you can wipe the dirt from this machine with a cloth. And the high-temperature anti-stick layer of the heating plate allows for easy cleaning.
To prevent the product from being damaged and bumped during transportation, we packed it with foam to protect your products to the maximum extent possible. We have been working hard to provide better service and quality for our customers, which is our goal. The four anti-slip feet make this machine stand stable without easily slipping and effectively avoid scratching the worktop surface. The soft handle on the top gives you a comfortable grip, prevents your hands from slipping, and allows for easy carrying.
And the 13.78 push-down handle allows for effortless use and a better extracting effect. With a 4.9 feet power cable, you can use this machine without worrying about the distance. The burr-free and round edge adds beauty to this machine and prevents your hands from scratching. It is used for extruding and extracting raw materials in the handmade process at home. It is suitable for PU, plastic particles, dry flowers&plants, pressing oil, printing textiles, and other materials. Turn on the machine and let it heat up to 392? Keep the temperature at 392?
For at least half an hour. Set temperature and time: Turn on the machine, set the required temperature and time, and wait for the digital controller to reach the target temperature.
Extracting: Place the pressing object in the middle of the heating plates, press the handle, and start extracting. Successful extracting requires the correct time, temperature, and pressure. The final effect of the extraction depends on the thickness and type of material. Different types of pressing objects should be tested in advance and the best heat press time and temperature should be determined before mass production. DIY extraction completed: When the alarm sounds, rotate the pressure-reducing screw to release the pressure, and the heating plate falls.
You can obtain the extraction of raw materials. Power Cable Length: 1.5m/4.9ft. Upper and Lower Heat Plate Size(LW): 612cm/2.44.7inch. Overall Size: 30.413.749.6cm/125.419.5inch. Package Size: 39.531.558cm/15.5512.422.8inch.
Gross Weight: 21kg/46.3 lbs. Please be careful not to damage the products in the box due to the excessive force of tools when unpacking. During use, it is strictly forbidden to touch the heating plates, and please keep a proper distance between the heating plates and the workbench. Please do not place the material to be heat pressed on the working platform during the heating process, so as not to burn out.
The temperature setting of our Heat Press machine is 392°F. The time setting of the timer switch is 35s.
Press the timer switch, and there will be a buzzer sound after 35s. If the factory-set temperature can meet your temperature requirements, you just plug in and turn on the switch to let the machine heat up, and you can use it directly.
If you need to modify the temperature and timing time, you can modify it according to the user manual, which is very simple. Please remember to tighten the relief valve when using the hydraulic jack, which will make it easier for you to use. For your safety, the power supply must comply with a single-phase three-wire power supply with a protective grounding wire. The function of the temperature control instrument is relatively complex, and you just need to set the temperature without redundant adjustment operation, otherwise, it is easy to cause the instrument program to be disordered and unable to work normally. Please turn off the machine and unplug the main power plug before replacing the heating parts. Never make any inappropriate idle-running of the machine. Please read the operating manual completely before use. And pay particular attention to the safety instructions included.
Please allow the slight color difference caused by the shooting light and 1-3cm error due to manual measurement, and make sure you do not mind before you order. Feedback is very important to us.
It is impossible to address issues if we do not know about them! Faction is our ultimate goal.
We work hard to earn your trust and future business. A If you receive a defective item, you may return it or ask for a discount. Due to time zones, our reply to your questions may not be immediately. If it's non-workdays, please kindly be patient and wait till Monday. Easy installation, Convenient Use, Easy Operation. 2.4 x 4.7 in.