Low Profile Floor Jack 3 Ton Heavy-duty Steel Dual Piston Hydraulic Pump in USA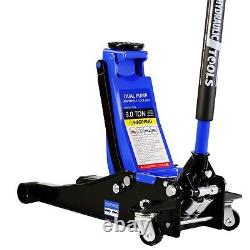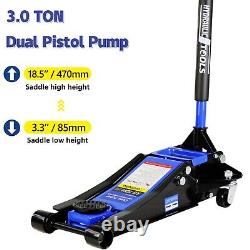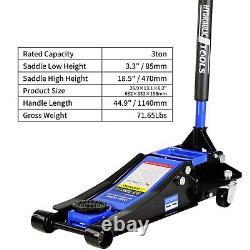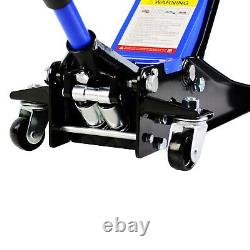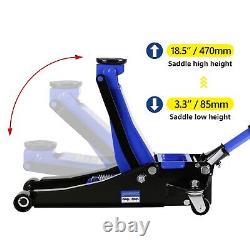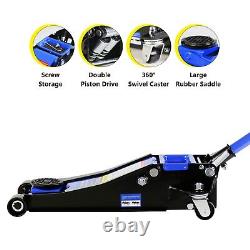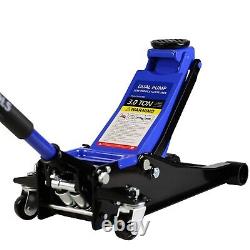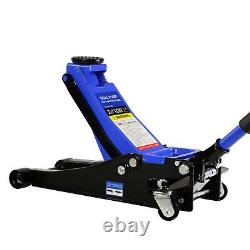 With 3 tons/6600 lbs strong loading capacity, Toneider's floor jack can help you raise your car for whatever reason. Replace a tire, change oil or maintain the brake, whether you are a professional, car enthusiast, or weekend DIYer to take matters into your own hands! Dual piston pump lifts loads 5 times faster than a single pump and is ideal for most cars, trucks, and SUVs. For Your Lifting Needs:Lifting range from 3.3/85 mm.
Allows you can gain easy access under low-profile vehicles; Wide stance provides added stability under load. A rubber saddle and a foam handle bumper provide maximum protection to your vehicle! The 360° rotatable saddle can be detached and replaced.
Thanks to the leverage principle, the 44.9 in/1140 mm long handle makes lifting easier. With the two-piece design, the handle can be disassembled when stored, taking up little storage space.
Meet International Certifications: Comply with CE certification 2006/42/EC (EN1494), UKCA certification SI 2008 NO. 1597(BS EN1494), and ASME PALD-2014 SAFETY STANDARD. Our jack features a built-in safety load system that prevents use beyond load capacity.
The excellent sealing system ensures your security and long-term use. Hydraulic Low Profile and Steel Racing Floor Jack with Dual Piston Quick Lift Pump, 3 Ton (6600 lb) Capacity, Blue.