TCE 50Ton Torin Heavy Duty Professional Double Piston Bottle Jack RedATH950001BU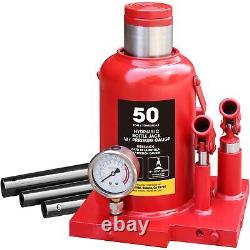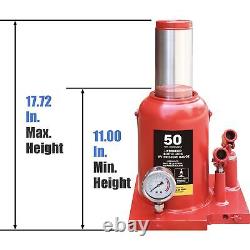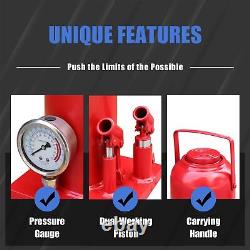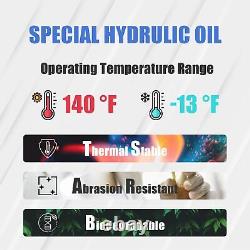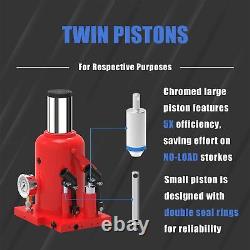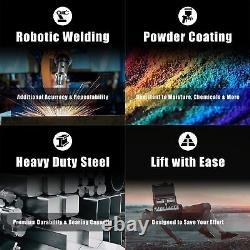 Capacity: 50 ton (100,000 lbs) and the lift height ranges from 11.00 in. Engineered with double piston lift system saving effort on no-load strokes reaching to the jack point. Engineered using a drop forged alloyed steel construction for quality and durability; Inner/outer welded structure delivers leak-free performance. Special hydraulic oil features wide working temperature, which ranges from -13 °F to 140 °F, suitable for a variety of applications. The TCE Torin ATH950001BR hydraulic bottle jack is designed for residential and commercial use.
It is industrial welded and engineered using a drop forged alloyed steel construction that is ideal for quality and durability. The inner/outer welded structure and steel construction will keep your bottle jack leak-free and give it an overall stronger build. The fully welded structure is designed for hard-hitting commercial use, making large loads easy to lift. A wide, rugged base adds stability and strength. The lifting range is 11.00 in.
With a 50 ton (100,000 lb) capacity. It features a high-quality glide-action pressure pump designed to lift with minimal muscle and effort and has an integrated built-in oil-bypass and overload valve that protects the hydraulic system from extending beyond its travel limits. Piston ram utilizes a Y-style polyurethane sealing ring with backup ring, preventing the load from falling slowly. This powerful bottle jack is ideal for lifting heavy-duty machinery and industrial equipment.
It can also be used for military applications, agricultural and industrial environments where the equipment receives heavier abuse.